Reddit, like Tahiti, is a magical place.

For those of you not part of the cult of the narwhal, Reddit.com, "the front page of the Internet," collects the web's most popular articles and images to a single page using a sophisticated algorithm based the votes of its users, who proudly call themselves "redditors."  Reddit is so good at this, in fact, that users are often heard to respond to trending articles with the phrase "Read it!" – hence the name.  With so much content on the cutting edge of current events and pop culture, Reddit can be the best source of information on the net or a black-hole level time sink.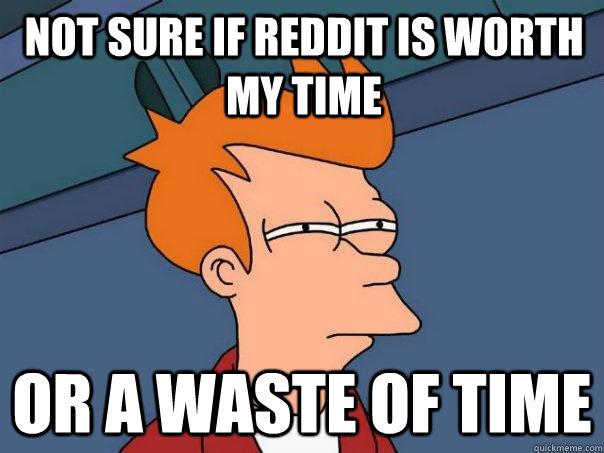 But you're a creative person making the most of your limited resources, and time is important to you.  So how do you get more out of Reddit than four hours of adorable cat pictures?
1. Follow the right subreddits.
Subreddits are portions of the site that aggregate links based on specific communities of interest.  There are literally thousands of subreddits ranging from the obvious (r/pics) to the absurd (r/bearsdoinghumanthings), so you're certain to find a community of people just as passionate about your interests as you are, no matter how niche.
The key for creatives in this space is to look for subreddits that encourage active involvement, not passive browsing.  Here are some of the best that we've been able to find:

These two subreddits work best in tandem.  r/Getmotivated will provides a steady stream of images, videos, stories and more to motivate and inspire its community of "wolves" (named for the "Courage Wolf" meme). You can take that energy to the next level in specific interests, habits, or careers with one of the dozens of other subreddits suggested in the sidebar.  The most broadly applicable of these is r/GetDisciplined.  Here you'll find an active community of users helping each other stay on track with their goals, whether it's getting up earlier, finishing a to-do list, or studying for that big test on Friday, through guidance and accountability.
Whether it's SQL coding language or raising children, this subreddit can help you learn specific skills.  It's not a magic bullet for your problem, but most inquiries are answered quickly with, at the very least, solid resources to get you started.  This community of "autodidacts" seems to genuinely care about its members.  For all these reasons, this is a great place to start learning your next skill.
A doodle is art made in the nooks and crannies of life, like margins of the page, meetings and lectures, or absentminded phone calls – the "spare room," if you will.  Some of these designs are quite impressive on their own.  Many could be used as the basis for larger compositions.  All of them remind us that art has to start somewhere, and you can let it grow from there.  Use this subreddit to get new ideas, or appreciation for your own doodles.  Check out our interview with Bekah about Zentangle, a structured form of doodling meant to increase concentration and produce works of art on its own.
Writer's block is no longer an excuse.  Each post in this subreddit is a premise for a piece of writing, whether it's flash fiction, constrained writing, or from an established universe like the Pokemon franchise (which seems to be the most popular choice).   They can be a few sentences, an image, or even snippets of audio or video.  The moderators here will often run contests and compile "best-of" posts, so there's potential for recognition and incentive to excel.  Use this subreddit to "warm up" as a writer, start your next novel, or as a challenge with a group of friends.
Rarely will you find an online community so strongly committed to building up and improving its members as Songwriter's Circle.  The subreddit is heavily moderated so that all comments are constructive and substantial.  There's also a strong suggestion that for every post asking for help, a user should comment on at least three other songs that came before.  This means that members of this community are experienced in their craft and committed to helping others learn and grow.   This is the place to go if you're getting started as a songwriter.
Let's face it: sometimes you don't have what it takes to get the recording you want.  This subreddit will find you someone who does.  Here you can ask for a particular kind of instrument or vocals to finish a recording of your own, or you can offer your services and collaborate with other musicians looking for your particular expertise.  It's a great way to grow your network and gain experience with a minimal commitment.
Here you'll find drum loops, samples, presets, and software available to use in your own home recordings.  Moderators actively ensure that the content is either user-generated or free of copyright restrictions, so that you can pursue your creativity without having to worry about the tangled mess that is media law.
The unique "seeking or showing" paradigm on this subreddit is a great way to think about collaboration.  You can post your own work or jump in on someone else's, and with no restrictions on genre or medium, you never know what you'll find.
Sometimes you just need some attention.  This subreddit is exactly what it sounds like, and it contains only things that Redditors are proud of having made themselves – no referral or affiliate links.  Believe it or not it can make a difference in your traffic.
2.  Follow the rules.
Like most human subcultures, Reddit has its own set of rules for living in harmony with other users, called "rediquette."  Depending on the user or the subreddit, it can make or break your experience in the community.  There's a full explanation at Reddit's own in-house wiki (yes, it's a website so big it has a wiki inside of it), or you can find it all helpfully set to cheerful music here:

3.  Follow smarter.
Once you've found your core group of subreddits, gather them together in a personalized Reddit homepage with the Reddit Enhancement Suite.  The plugin works with all major browsers to do the unthinkable – condense your Reddit browsing to a single tab.
TL;DR:
Follow subreddits that make you interact in a meaningful way, see the list provided; when in Reddit, do as Redditors do; and make it easy on yourself with browser plugins and bookmarks.
For more information on Reddit and how to make it work for you, check out CGP Grey's pointedly concise explanation on YouTube or this article from Jordan Bates at Refine the Mind, both of which were very helpful when putting this post together.